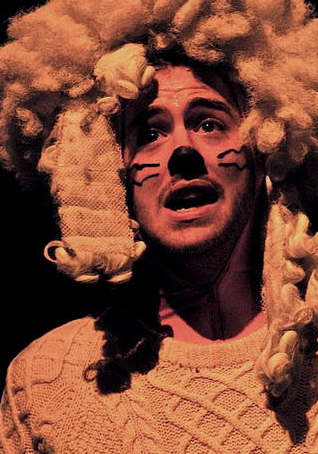 A short play about power and loss, love and humanity; an absurdist piece of political theatre which takes you to the world of the great 'Übercats'.
An explosion of the joy of the illogical, emotions of the totalitarian, and colorful anarchy. With a script comprising of improvisational writing, gathered facebook and youtube comments, Hugleikur Dagsson's comics, Hitler's Mein Kampf, and Nietzsche's Thus Spoke Zarathustra; the play carries a bold statement expressed through a unique, dark humored and lively style.
Phew: Kisuleikur was one of the three productions that toured Iceland the summer of 2013 in Þríleikur (Three-Plays). The tour consisted of three 20 minute experimental theatre performances. The tour was an integral part in shaping our style and testing the boundaries as a young company. The tour was possible due to the generosity of the Rose Bruford Jubilee Fund.
CREATIVES
Director
Anna Korolainen
Composer
Ella Wahlström
Stage Management
Ásta Guðrún Sigurðardóttir
Lighting Design
Sindri Þór Hannesson
ACTORS
Anna Korolainen
Finlay McFarlane
Karl Melberg
Bergdís Júlía Jóhannsdóttir
Eva Solveig

Brought to you by
Rose Bruford Jubilee Fund